Love them or loathe them, The Rollers were the teenage phenomenon of the 1970s. In a self assured, witty and composed style he recalls his days of pop bedlam as a Bay City Roller and magazine pin up,..to the greatest Rock n Roll swindle of all time.

2007 will see his debut British tour as an acoustic troubadour, playing some of his favourite and inspirational songs from Tom Petty to Pink Floyd and Woody Guthrie as well as plenty of original Roller hits, including Give a Little Love, Bye Bye Baby, Saturday Night & Shang A Lang.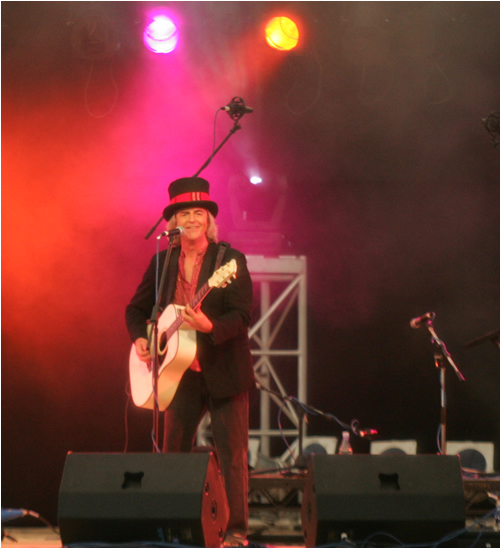 When the Bay City Rollers were big, they were the biggest. For two years, everything they touched turned to gold, then platinum. There was a national Rollers uniform - up and down the land, kids wore tartan culottes, scarves dangling from the wrist and Doc Martens boots. "We want the Rollers!" was the only cry heard in the 1974 the Top Of The Pops studio, whoever was playing. The band sold 120m records, generating income worth £5bn in today's money and conquering the UK, US, Australia, Japan - everywhere. They were the world's biggest band since the Beatles.
Eric Faulkner is appearing at this years Acoustic Festival of Britain on Saturday May 25th at Catton Hall Park on the Derbyshire/Staffordshire Borders, alongside Supertramp, Deacon Blue, Imelda May, The Animals and many more
Visit www.acousticfestival.co.uk for more details

Eric Faulkner & The Bay City Rollers Books, CDs & DVDs Available

100s of photos of Erics appearance at the 2006 Acoustic Festival of Britain now online

Eric Francis Faulkner was born on October 21st, 1953, at the Royal Infirmary in Edinburgh, Scotland. One older brother: Alan. Early on the lad showed some musical flair. Studied the viola (apparently not the violin, although the exact difference between the two escapes me) and played it with a local school youth orchestra. His parents, reportedly, had hopes of him becoming a classical musician. By early teens, inspired by The Shadows and, in particular, their famously spectacled guitarist Hank Marvin, Eric had taken up the guitar as well and started to play professionally with a band called Witness at the tender age of thirteen. Left school a little later, after having taken - and passed - what the British call the O-levels and appears to be the equivalence of a High School diploma. Moved out on his own while still in his mid-teens, scraped by living in dumps, hardly knowing where is next meal was coming from. Or so some sources say.
Eric himself has said that due to his parents move away from Edinburgh he merely moved in with his Aunt Peggy who lived in the city, so he could still pursue his musical ambitions. Later, Eric also claimed his only paying job during these days was as a roof surveyor for all but six weeks. Joined Sugar, which later on became KIP - a band that Rollers manager Tam Paton always "kept an eye on" and soon got the reputation of being a reserve team, of sorts, for the Rollers. As a case in point, Woody, too, was plucked from another, later, incarnation of Kip, and John Devine, Woody's predecessor in the Rollers, was KIP's bass player (he replaced Archie Marr on keyboards and played a bit of guitar as well in the Rollers). Eric later remembered KIP as being "Brashy, trashy, and loud."

Before he became a Bay City Roller in 1972 - replacing Neil Henderson, who went on to join Middle of the Road (of "Chirpy Chirpy Cheep Cheep" fame) - Eric, one source says, worked on Tam Paton's potatoe lorry for a full year (perhaps that wasn't a proper "paying job" then. Not that working for Paton would ever become that profitable).

Eric always seems to have been the most serious and cynical member of the band. He is also without a doubt the band's most natural and prolific songwriter - along with, or with the possible exception of Duncan Faure - and his lyrics very often deal with "deeper" subjects than most pop songs. As early as 1975 - at the height of the Rollers' success - Eric was already pondering the pitfalls of fame with the words to "Once Upon a Star"; a subject he would dig even deeper into on "Don't Let The Music Die" (1977). And even the utter bleakness of "Stoned Houses #2" (1979) is an ever continuing variation on that same theme, in which after the fact; "(You) Better get up - better get down. Living a lie - never say die."

Not all that surpising, then, that the man apparently also dabbles in poetry. "Strangers in the Wind" (1978), in fact, sounds more like a poem than a pop song lyric - let alone a Bay City Rollers song lyric. Later on, aptly enough, Eric assumed the position as the band's leader as well, and without him to hold it all together - not to mention keeping it, uh, rolling - there probably wouldn't have been a Bay City Rollers band out there, touring and recording for as long as it did. And there may even be life left in 'em yet... Probably he, too, was the main force behind the severe change of musical direction the Rollers took after the 1978 departure of Les McKeown from their ranks. Certainly, the arrival of Les' replacement, Duncan Faure, couldn't have been the only factor behind said changes - although it was probably just as instrumental.

It was seemingly during the making of The Rollers' last album for Arista Records, 1980's "Voxx", that Eric came into his own as a producer. He - or rather 'Ricky Fender', his alter-ego - is credited as the producer of the majority of that album's material. (Eric, under his own name, also co-produced one of the finest indie albums of 1999 - "Loser Friendly" by Steadman, proving full well that he was still then willing and able to get his hands dirty; B.C.R.'s '90s re-recordings of old hits, however, were usually produced very clean and flat and, to say the least, mixed conservatively.) After Duncan Faure left The Rollers in 1981, escaping the complete commercial failure of that year's "Ricochet" LP, Eric, at times, seems to have been the only Roller really interested in keeping the band going. And although he did, at the time, get involved with his then-girlfriend's (now Pat McGlynn's long-time partner) Janine Andrews' singing career (initially, "Precious" was intended for her), it was mainly he who was behind "Three years of never-ending reunion tours" from the early to mid-'80s. And, "More than anybody," he claimed in 1988, "I was trying to keep the band together, get them to (tour) Australia and stuff." Then in September 1985, amidst a disastrous Australian tour, on which Eric did double duty as the band's manager (!), it all came to a halt;

Eric left the band, took a year off, demoed a lot of own material, and, perhaps most importantly, started working with ladyfriend Karen 'Kass' Prosser (also served as a backing singer on that fateful Australian tour) who, in effect, then became his closest associate and rarely left his side for the next decade. She dragged him out of semi-retirement and got him excited about forming a new band, EFCO - the Eric Faulkner Co-Operative. Soon, though, that changed to New Rollers, because it (ROLLERS, presumably) was just "Too big to get away from." At the time, Eric also said he was "Doing it 'cause I enjoy it, not because I need a few 'bob'." Also then, for the first time, Eric became the (New) Rollers' lead singer. About the apparent self-destruction of the Rollers and other teen bands, he had the following to say in 1988: "The business just eats them up. Those business types don't give a damn about anybody, you're just a commodity to them... (Although) a lot of it was (poor) management, a lot of it was (bad) business." Little by little, Eric managed to tempt both Woody (rejoins in '89) and Alan (follows suit in '90) back into the fold, which by then, once more, became the Bay City Rollers (although a legal battle with Les over ownership of the name ensued in the early '90s and was, eventually, won by Eric & Co.). But not before Eric and Kass, with the occasional aid of people like drummer Phil Watts, had made several recordings under the New Rollers monicker - most notably the glam rocking "Party Harty EP, which was issued in the U.K. on their very own indie label, Fast Edge Records, in 1988.

And then, of course, there was the unreleased (although it was briefly sold as a fan club cassette) "Life is a Wasteland" album, put down during Christmas '88 by Eric, Kass and a drum machine of unknown origin. Just tell me, why the devil does the title track always remind me of Simple Minds? Anyways, Ricky Fender, there, then and again, reared his spiked-hairy head... And from 1990 until circa 1996, the band which was made up of, mostly, Eric, Alan, Kass and Woody, toured extensively the world over and even recorded quite a bit as well. Mainly, though, there were the re-recorded old hits type of things, and even re-recordings of those re-recordings! (See 'Re-recorded CD's' section for further info) Thankfully, the odd original composition made it out there as well (the best ones: "Best Things"; "Two Hearts"; "Days of Youth"; "Rock 'n' Roll Suicide"; Woody's "Dreaming"; and the "Flower of Scotland" cover) - mainly thru regular fan club cassettte-only releases such as "Ruff Roughs" or "Demos 1", to name but two (See 'Fan Club Tapes' section for the complete catalogue). But by circa '96 the act had become a bit tired. Alan's fragile health didn't help matters much and there were circulating rumours about Kass' situation in that aspect as well. For whatever reason, Kass left the band that year and although the remaining three - Eric, Alan, Woods - soldiered on a bit after that, it just wasn't very convincing anymore.

What Eric himself had once said about an earlier BCR line-up applied just as well to this one: "If you ain't moving, you ain't going (anywhere)". In 1997 with reunion rumours w/Les afloat, seemingly, we never heard nor saw the Eric Faulkner-led version of the Bay City Rollers again. Aforementioned 1996 Eric Faulkner solo-credited "Demos 1" fan club (shortly thereafter, the fan club was no more as well) issued cassette aside, the man himself seems to have been mysteriously and disappointingly elusive during the late 1990's and the early 2000's. His co-production credit on the Steadman album probably would have gone altogether unnoticed were it not for the promotional efforts of others involved with that project - certainly not the suddenly publicity shy Mr. Faulkner himself.


Phone Mike
01269 597118
for Availability
Pages in Memory

Lonnie Donegan
1933-2002

Tim Rose
1940-2002