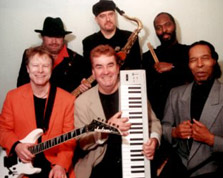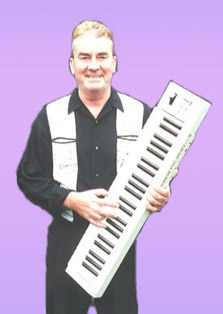 The Foudations &
Geno Washington
will be playing at
The Civic Hall Nantwich
as part of the Nantwich Festival on April 9 2004.
Call the Box Office on
01270 620667
for more details
The Foundations were formed in the mid-60's by guitarist Alan Warner and within a short space of time their debut single 'Baby Now That I've Found You' went straight to No 1 in the British and American charts and sold several million copies. The group then went on to tour the world and scored their biggest hit 'Build Me Up Buttercup'. which topped the chart all over the world and has recently been featured in the smash hit film 'There's something about Mary'. Other chart hits include the massive 'In the Bad Bad Old Days', 'Any Old Time(You're Lonely and Sad)' and 'Back on my Feet Again'.
Alan has been joined by the former Bee-Gees keyboard player, Gary Moberley along with drummer Sam Kelly, who has been voted best British R&B soul drummer two years running by Blues & Soul Magazine.
Completing the lineup is the new sensational front man, Hue (The Duke)Montgomery, who is widely regarded as the best soul singer in Britain today. Hue and the guys have just completed a sensational sell-out tour of the UK, along with Zoot Money and Geno Washington. The tour has established The Foundation as one of the best live soul acts ever to emerge from the UK and the band is about to embark on a tour of Australia and New Zealand, as well as releasing a brand new album featuring all The Foundations biggest hits, as well as a fantastic selection of 60's soul classics.

Gary arrived in the U.K. from Australia during the early seventies.His interest in soul music led him to be Musical Director for many American acts touring Britain and Europe. These included Arthur Conley,Eddie Floyd, Rufus Thomas, Wilson Pickett , The Platters etc. Garys playing abilities led him to work with more modern artists from that time including The Sweet and John Miles on recording and world tours.

In the eighties Gary used the first Music Computer System in the world namely the Fairlight C.M.I. This led him to work with many contemporary acts of that time including Wet Wet Wet, Fine Young Cannnibals, The The , A.B.C., Prefab Sprouts, Jodie Watley , Talk Talk,Terence Trent D'Arby, The Damned, etc. etc. Gary was over the moon to get to play the piano for Little Richard on The Cannon and Ball Xmas Special.

Into the nineties Gary decided to go back to more live playing.World tours with the Bee Gees and playing Hammond Organ and piano for American Blues Legends touring Britain and Europe. Began working with The Foundations in 1999.