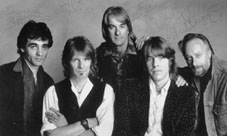 DISCOGRAPHY

I Wish You Would 1964
Good Morning Little Schoolgirl 1964
ForYourLove 1965
Heart Full of Soul 1965
Evil Hearted You 1965
Still I'm Sad 1965
Shapes of Things 1966
Over Under Sideways Down 1966
Happenings Ten Years Times Ago 1966
As 1960's Rock Groups go, the Yardbirds remained in existence as a unit for the average span of about 4 years. During that short time they gained a reputation as one of the most influential bands in Rock History. Any discussion of rock groups of the sixties had to include their name in the same breath as the Beatles or the Rolling Stones.
~ Dave Marsh, editor of Rolling Stone Magazine commented "The Yardbirds ~ helped introduce almost every significant technical innovation in the ~ rock of that period". Their influence cannot be overestimated. Cream, Led Zepplin and Heavy Metal in general, would have been inconceivable without them.

The original line-up of the Yardbirds was Jim McCarty, Chris Dreja, Paul Samwell-Smith, Keith Relf & Tony Topham. The band started working the London club scene in 1963. In December that year they were recorded live backing Sonny Boy Williamson on his U.K. tour. In 1964 they signed a major recording contract with EMI-Columbia label.. In September of '64 the band made their first trip to the U.S.A. to promote their first release "I Wish You Would" . The second release "Good Morning Little Schoolgirl" reached No. 44 in the U.K. charts despite a B.B.C. ban. By this time Tony Topham had been replaced by Eric Clapton. "For Your Love" was released and made No. 3. At this point Eric left and was replaced by Jeff Beck. The follow up "Heartful of Soul" made No. 2. "Evil Hearted You" also made the charts at No. 3. The same position as "Shapes of Things" which was recorded in Chicago in March 1966. Paul Samwell-Smith decided to leave the band and was
replaced by Jimmy Page, Chris Dreja moved onto bass. "Over Under Sideways Down" reached No. 10. The last British release "Happenings Ten Years Time Ago" only reached No. 43 in the U.S.A. it made the British Top 30.
After a tour with The Rolling Stones Jeff Beck left the band. In 1967 Mickie Most took over the production side. The band released
several more records in the states and did further American tours. In July 1968 the band split, Chris Dreja and Jimmy Page put together the New Yardbirds with Robert Plant on vocals and John Bonham on drums, the birth of Led Zepplin.
Now three decades later the Yardbirds are back on the road!