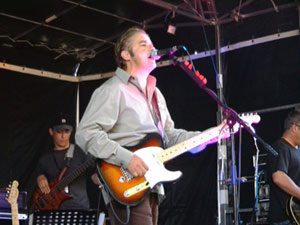 JJ Gilmour, from an early age having been kicked out of school, started to write songs. Still in his teens he relocated to Jersey in the channel islands and then to Canada where he met the band he was to join.
JJ was was asked to sing vocals on the (dance to the holy man) album by the silencers. "i did my vocals for them and a month later they asked me to join the band. i jumped at the chance".
During seven years and two further studio albums with the group , JJ emerged as the key lead singer for the Silencers. at the group's peak, it was selling hundreds of thousands of albums around europe and headlining many of the continents major festivals, for jj it wasn't enough, he agreed to stay to fulfil the remaining several months of european touring with the band and after the final show in lille in france he left to write for his new solo album.
Sunnyside (P.A.L) is the emotionally-charged intensely personal debut album by JJ Gilmour.
it's a record of rare honesty which throughout, identifies certain important, influential or amusing people and moments in his life . Even it's title tells a poignant tale; it's a reference to Paul Anthony Lennon, jj's closest friend who lost his life to cancer and to whom this collection of songs has been dedicated.
yet for all of the heartbreak wrought in much of his material, joy is also ever-present and evident throughout, jj's first solo outing; a bright happiness which rings clearly within the soaring, soulful vocal interpretation of his songs. he has a naturally gifted voice, used to deliver a record which very much represents a culmination of his abilities and experiences.
"there's a lot of people writing from the heart, like richard ashcroft from the verve, david gray or coldplay and i have always written that way. I've taken all of my musical influences and thrown them into this record, and I've come out with my own bag of tricks."
JJ Gilmour Tour Dates
| | | | | | | |
| --- | --- | --- | --- | --- | --- | --- |
| 7-Aug | Sat | JJ Gilmour | | Paignton | Kick up the Arts Festival | |
falkirk town hall
alongside 'the selector'
fri 2nd april
8pm tickets £8.50/£7
tickets from fthentertainment.org or tel 01324 506850


wrexham
central station
casbah club
tues 13th april tickets £12 advance, £13.50 door
from wayahead.com or tel 01978 264940


glasgow garage
Wed 14th april tickets £12 advance, £14 door
from tickets-scotland.co.uk and cplweb.com or tel 0870 220 1116
tickets available in person from ticket scotland outlets

belfast limelight friday 16th april
tickets €20
from ticketmaster.co.uk
or tel 0870 234 4455
also available in person from venue box office


dublin (midnight at the) olympia Sat 16th
april
tickets €20
from www.ticketmaster.ie
or tel 0818 719 330
(If calling from outside ireland: tel: 00353 1 456 9569, Fax: 00353 1 679 94 74)
tickets available in person from venue box office


limerick dolans
sun 17th
april tickets €20
from www.ticketmaster.ie
or tel 0818 719 330
(If calling from outside ireland: tel: 00353 1 456 9569, Fax: 00353 1 679 94 74)
tickets available in person from venue box office


liverpool,
carling academy2 tues 20th april tickets £12 advance, £14 door
from ticketweb.co.uk
or tel 0870 771 200
t ickets available in person from venue box-office


wolves,
robin2
the leisure factory, wed 21st
april tickets £12 advance, £14 door
from therobin.co.uk (on-line facility coming soon)
or tel 01902 401211, available in person from venue box-office
also by Post


bristol,
carling academy thur 22nd april tickets£12 advance, £14 door
from ticketweb.co.uk or tel 0870 771 200
available in person from venue box-office

nottingham,
rescue rooms fri 23rd
april
tickets £12.50 advance, £14 door from wayahead.com and alt-tickets.co.uk
or tel 0115 958 8484
available in person from venue box-office


london,
carling academy, islington Sat 24th
april tickets £14 advance, £16 door
from ticketweb.co.uk or tel 0870 771 200
available in person from venue box-office