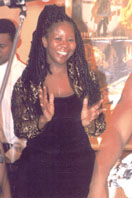 Hohodza 2004 Tour Dates
Interview with Portia
from The Times
in which she talks of life & politics in Zimbabwe before she fled to the UK.
Download MP3 Samples Now
If you want to save the MP3 file to your disk, right-click on the link, select "save target as...", select a location on your disk, then click "save".
Tendekayi 2,370 Kb
Chave Kuseva Fenstance 1,879 Kb
From The Album Chaitemura
One of the main reasons why Portia started the band was to promote Zimbabwean culture, as well as to provide some kind of gainful employment.
They have released ten albums so far, with Portia composing most of the songs herself and some are done by some of the band members. Our songs are written and arranged to suit dance routines practiced Zimbabwe and very educative too.
They have played in South Africa, Belgium, England, Wales, and Holland where they received wide acclaim and the reception was incredible. They touch people's hearts. Theshows were excellent, the experience was wonderful. They also played at the opening ceremony of the Commonwealth Games in Manchester.
Their Mission always is to leave audiences spellbound at every performance, always managing to keep their fans on their toes and bagging for more.
While on European tour thousands attended their shows and they had similar audiences in Zimbabwe. The girls always keep the audience on their feet with their unique dancing antics.
They have also shared the stage with international artists like Clarence Carter from America, Koffi Olominde, Kanda Bongoman, Alan kounkue and Yondo sister who are all based in France and other top African artists from around the world.
As a 15-member group they are specialized in different forms of Zimbabwean traditional dancing such as Mhande, Jiti-Chinungu, Shangara, Zihwere, Madanha, Chinyambera, Muchongoyo, Chimutare, Ingwenyama, Mbakumba, Shield Dance, Jerusarema (Mbende) and the Spiritual dance.
"When people come to our shows, we want them to get a feel of our traditional values and when they visit our original country, they will feel as if they have visited it before."